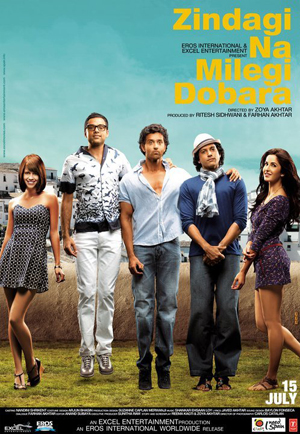 Ahhhh! I'm back! Finally! Due to extreme busyness (if you follow me on Twitter, you know about what), I haven't had time to consume Bollywood in almost two weeks (apart from
Murder 2
). I was going through some serious withdrawals and yesterday ended my busyness... So! Once again, I completed the now-ritual weekly trip to the theater for a dose of Bollywood.
Yesterday, it was FINALLY one of the ones I've been waiting for,
Zindagi Na Milegi Dobara
. And when I say waiting for... I use that somewhat loosely. I've been anticipating it for a couple of months, but nothing near my fangirlish anticipation of
Ra.One
,
Mausam
and
Don 2
.
Speaking of which, I saw the trailers today for those last two and OMG SO EXCITED. (I'm glad I didn't see a Ra.One promo though; it would have sent me over the edge!)
Also interesting note, I saw this film in an AMC theater, which is closer than the Big Cinemas theaters but where the audience is usually different and much smaller (and sometimes bizarre,
like when I saw Murder 2
). This was the first time I've seen a Hindi film in an AMC theater and been part of an actually decent crowd. One of the old white men from before was there again and was kinda obnoxious (in fact, he bought his ticket ahead of me and TOTALLY botched pronouncing Zindagi Na Milegi Dobara), but the crowd was mostly desi. :)
Synopsis:
As Kabir (
Abhay Deol
) prepares to get married, he and friends Arjun (
Hrithik Roshan
) and Imran (Farhan Akhtar) set off for a "bachelor trip" across Spain. But Kabir is struggling relationship stres, financial trader Arjun is obsessed with money and never stops to enjoy life, and Imran is hoping to meet a man he only recently found out was his biological father. The three longtime friends set out to capture life and bond anew over adventures that also run them into Laila (
Katrina Kaif
), a half-white half-Indian free-spirited girl who travels at her whim.
First, let's get the obligatory out of the way: Abhay Deol is FREAKING ADORABLE. Hrithik Roshan is a mighty fine-looking man, especially with his curls kicked into high gear by the salt water and a little bit of tan. (Although, random side-note, Abhay's character struck me as randomly metrosexual at times and Hrithik kept wearing cuffed pants that showed off his ankles, which is SO annoying to me.)
Now if you read
my Kites post
, you know that besides Indian culture, I am all about Hispanic culture too (especially Mexico). Although I admit I don't quite include Spain on the same level as my Latin American loves (and admittedly Spain Spanish is almost obnoxious to me; I blame it on spending too much time around Mexicans), the traditions of Spain have a certain special place in my heart too. So, you should know this film was almost destined to be a hit with me right off the bat just by blending Hindi and Spanish. And it certainly does that in a pretty fabulous way. (Also, random side note, but Hrithik speaks no less than four languages in this film: Hindi, English, Spanish and Japanese.)
And in truth, this song Señorita was one of my favorite scenes in the film (and is already on my iPod) partially because of the Hindi-Spanish blend. It also has the added amazingness of the three leads having actually sung the song (Abhay's voice is, in the words of Papaya, "almost silly" but I LOVE it) and this awesome fun dance number.
(Video is promo with partial song.)
I joked to my Papaya that ZNMD is the bromance that
Delhi Belly
wishes it had. The camaraderie in this film is gorgeous; the men struggle, help one another through fear and emotional turmoil, laugh, cry, joke, talk women and cars, and do everything together. Farhan Akhtar's Imran reminds me of that somewhat douchey but thoroughly hilarious friend that everyone has.
This film is about three men who thought they knew who they were, what made them happy and what they wanted from life... Finding out they didn't really know at all. So they go on all sorts of adventures in Spain that force them to confront their fears and their confusion. It's about living and letting go of things you don't want to let go of. It's of course too idealistic in that way that all films are, but that's OK because all films are like that. In truth, some scenes drag out for a long time like they're supposed to be super meaningful but they take it too far, but for the most part, I thought the message of this film connected. It was a nice emotional ride.

The movie was also funny -- at some point, at least everyone in the theater from young to old laughed. It's got an element of that gene that all men have where they never quite seem to grow up or grow out of silly pranks. And there are enough jokes about enough different things that it keeps you entertained and smiling.

There's also kissing and sex, but it's surprisingly well done and not awkward like most of the other stuff I've seen lately.

And while on the subject of physical love, the love story in this film was pretty nice too. Laila (Katrina Kaif) basically teaches Arjun how to live in the moment and experience life, and he falls in love with her in the process. Now, often to me Katrina Kaif is annoying, maybe because she's so often given preppy, kind of dumb-blond roles. But in this, the girl she plays is amazing and I love it. Laila is someone who lives life on her own terms and doesn't stop to think about what other people think. She's also a deep-sea-diving, motorcycle-riding kind of girl who's not afraid to get dirty. I love this empowering view of women in a movie that's basically about bachelorhood.

I just wish they hadn't played out female stereotypes in the character of Natasha, Kabir's fiancée. Natasha is basically, pardon my language, a bitch who takes over everything and only thinks about herself. And she's the stereotypical rich bitchy woman who also can't drive (because we all know that women can't drive *eyeroll*).

Overall, though, I don't see why anyone shouldn't enjoy this movie (except for maybe little kids), although from reviews, it appears that a lot of people didn't.

I honestly don't understand why others didn't like it, but maybe I enjoy it more because in a lot of ways, I have a "man's" taste. I can appreciate the epicness of skydiving and running with the bulls and a roadtrip in an awesome car (I think but can't confirm it's a late-40s convertible Buick Eight). But whatever the reasons, I certainly enjoyed it and would definitely recommend seeing it. :)