First, before I get into
Mere Brother Ki Dulhan
, I'd like to announce some happy news. As part of
my student newspaper
's revamping for the semester, we've added a whole slate of new blogs, including yours truly getting a Bollywood blog put on the list. Words can't describe how happy it makes me to get Bollywood in there amongst the many varied blog topics we have. It's called
The Filmi Gator
, and you can find it
here
, including my first post to encourage folks to try out Bollywood. (And pardon my apparently poor choices for suggestions at the end; I tried to go Bollywood Lite since I'm making first-time recs for people. Those are all films I've actually recommended to first-time watchers, with success.)
And now on to Mere Brother Ki Dulhan, which I saw with Papaya on Saturday. And there WERE subtitles! Yay. Thanks for that this time, AMC.
Synopsis
: London-living, just-broke-up-with-his-five-year-girlfriend Luv Agnihotri (
Ali Zafar
— who is not the same as Ali ABBAS Zafar, the writer/director, I found out the hard way) asks his brother Kush (
Imran Khan
) to find him a bride in India. Kush is fed up with his search when he runs into Dimple Dixit aka D (
Katrina Kaif
), a free-spirited wild-child he met in his college days. Convinced that Dimple's spunk is exactly what Luv needs, Kush begins arranging the marriage. The only problem is that he falls in love with Dimple while planning the wedding, leaving the two to concoct a plan to trick Luv into letting Dimple go.
Overall, I liked Mere Brother Ki Dulhan, but it was not quite as much as I'd hoped for. Seeing the way it was styled (and some of the great promo pictures below), I (and Papaya) hoped it'd have the same level of spazzy WACKINESS as Ajab Prem Ki Ghazab Kahani. Unfortunately, while it was a little spazzy, it wasn't spazzy enough.
I freaking love this picture. Unfortunately this scene was very passing in the film.
Still, it was funny in its own right. I wasn't in stitches, but I had a few good laughs, especially at scenes like this one.
But the awesome thing about this movie? Its girl power. I will admit to you that
Katrina Kaif
is not my favorite person in the world. Sometimes, she's downright annoying. But between her awesome character in
Zindagi Na Milegi Dobara
and this, I'm definitely giving the girl a couple of thumbs up for kicking @$$.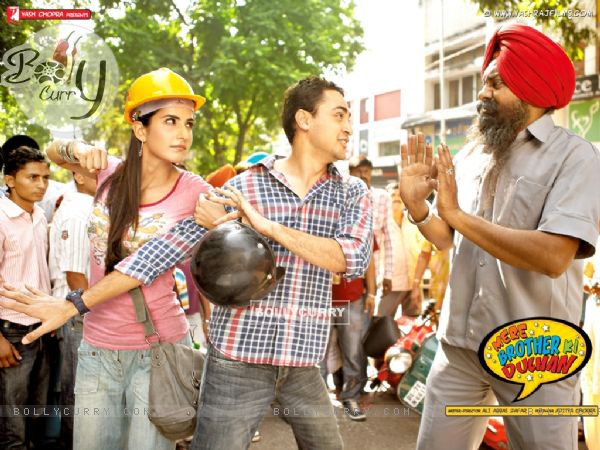 Katrina ruled this movie. It wasn't Ali and it wasn't Imran, though each had enough of his own tug that I thought it was nicely balanced.
But Dimple is a girl who knows what she wants and how she's going to live her life. She drinks with the boys (sometimes she even supplies the beer), wears what she wants and has tattoos (even though one of them disappears in some scenes). And not only that, she stands up for herself sexually too because just because she likes to have fun doesn't mean she's easy.
But if you had any illusions that either Luv or Kush had any sort of control over Dimple, she knocks Kush out with sleeping pills and bodily runs away with him when he refuses to elope with her.
Passin' out the drinks after the boys told her to stay out of them.
Although, random sidenote, Kush's refusal to elope with Dimple was somewhat annoying, especially after she'd pretty much already run away with him. He got on his soapbox about why eloping was not a good idea, and I was like, "Really? Are we doing DDLJ right now?" It was pretty out of context for the film, especially since (ahem, spoiler?) Luv ends up eloping himself.
But one of the really great things about the girl power in this is that it's a pretty thorough celebration of a woman's individuality. Other than the eyebrow-raising, eye-rolling line about "matrimonial eyes" in the title song, even the small things helped boost Dimple's right to hang with the boys. In the song "Madhubala," she gets to wear the same thing as the boys (the plaid shirt over a white tank). Details like that make me happy because generally films will make even a tomboy girly (i.e., sadly, my favorite film,
Kuch Kuch Hota Hai
,
or
Dil Bole Hadippa
).
And while on "Madhubala," I'd like to say that while I didn't necessarily adore the songs of this film (see: stupid "matrimonial eyes" line in the title song), I loved every song-dance sequence. They were all fabulous. (And, if you needed more convincing that Dimple was the dangerous one in charge, see the item song, "
Do Dhaari Talwaar
.")
Dimple has both brothers wrapped around her little finger.
And off-hand, Ali Zafar and Imran Khan make very interesting (quite pretty) brothers. (Also, thanks to lovely folks on Twitter for explaining to me the significance of the names Luv and Kush! I feel like I need a crash course in Hinduism these days.) (Also also, Papaya pointed out that Ali and Shahid Kapoor could very convincingly play brothers.)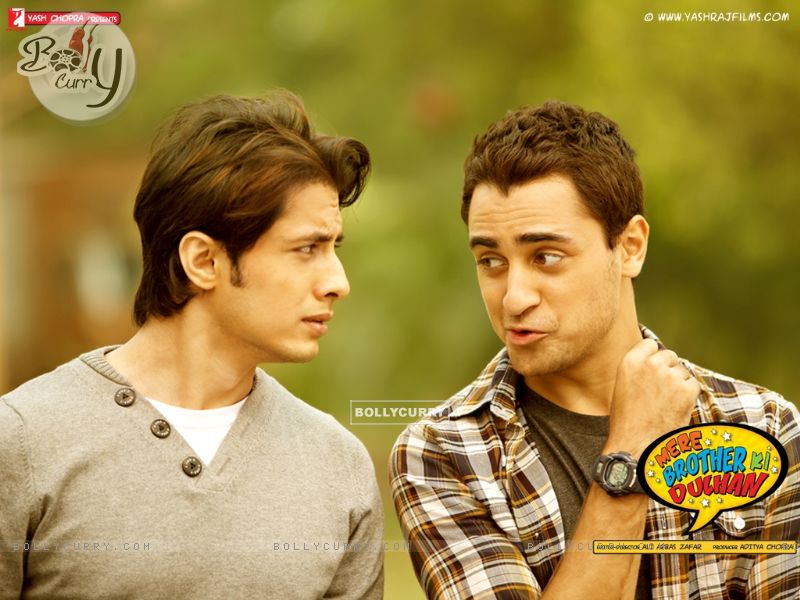 At the start, I didn't really like Ali Zafar. Maybe it's just that his character was being a jerk at the beginning because he grew on me really quickly! I was surprised to find out he's actually a singer and not an actor (hey, don't judge me for my ignorance) and I shall be checking out his music :). And he totally looks like a desi (and prettier) Freddie Prinze Jr. to me, which was kind of driving me nuts.
And yes, I wasted most of my time compiling this post trying to find similar pictures of Ali and Freddie because I must prove my point but there are VERY few good pictures of Freddie.
But in short, I'd recommend Mere Brother Ki Dulhan. Go see it. :)