A love story between, well, Veer and Zaara.
SPOILER WARNING: I can't talk about this one without going into plot detail, so read at your own risk.
Veer-Zaara is a love story that transcends the boundaries between India and Pakistan. Indian Air Force pilot Veer Pratap Singh (
Shahrukh Khan
) meets and falls in love with carefree Pakistani Zaara Haayat Khan (
Preity Zinta
) when she comes to India to take her beloved Sikh governess's ashes to the Sutlej River. He then helps Zaara and subsequently invites her to his village, where she meets his mother and father (
Amitabh Bachchan and Hema Malini
), who have basically built the village. She positively influences girls' education in the village, and Veer falls in love with her before he takes her to catch her train back to Lahore. At the train station, they encounter Zaara's fiancé. Despite this and the fact that traveling to Pakistan forfeits his career with the Indian Air Force, Veer goes to Lahore to stop Zaara's wedding.
Zaara's fiancé Raza (
Manoj Bajpai
), chosen by her father as a way to enhance his political standing, has Veer thrown in jail as a traitor and swears him to secrecy on Zaara's honor. He then has Veer's bus to India crash, thus spreading the word that Veer has died.
Fast forward 22 years to a sullen, silent, almost insane Veer who has spent most of is life in a Pakistani jail. He meets with an idealistic young lawyer, Saamiya Siddiqui (
Rani Mukherjee
), who wants to argue his case and free him. He tells her the story of his relationship with Zaara as a flashback, but he requires she not mention Zaara when arguing his case. Saamiya eventually goes to India looking for Veer's parents and finds instead that Zaara has been living in his parents' house, teaching the girls of the village after Veer's parents have died. So devastated about hearing of Veer's death, Zaara never married Raza and came to the village instead. Saamiya tells her the truth and brings her to testify at Veer's trial in Pakistan, where they are reunited.
And 22 years later, we are old. Somebody did good makeup.
I think overall, this film's plot arc is a gorgeous attempt to show love that transcends culture, religion, time and the rather… rocky relationship between India and Pakistan. Despite the fact that I almost feel like the whole plot is invalidated by the fact that both have been alive and well for 22 years, each thinking the other is dead or married… it's an attempt to show a truly enduring love.
Not my favorite jodi, but they work together all right.
And as with any Yash Chopra film, you know the cinematography is top-knotch and the songs are brilliant.
It's also always fun to see how Indian movies deal with Pakistan. This one was a mix. It had some really nice Pakistanis like Saamiya and Zaara, but there was also a lot of cruelty in the Pakistani judicial system (Veer's been mistreated for 22 years without justice before Saamiya comes along). Overall, the Pakistani men seem singularly bad but the women are OK.
I think what may have happened was this film was that it tried to take on too much. The typical family problems, love transcending culture, India-Pakistan relations, justice for prisoners, women's rights, women's education... It gets to be a little overwhelming.
For all of these things, the film gets an A for effort. For how it actually turned out, it gets a B. I think this film is overall pretty good but not great. The scenery was great, the people were mostly great, but overall, I can't say I was completely wowed. Other than what I just said, I can't find much else to say other than about the people involved.
Scenery: What an EPIC way to cross a river. I WANT ONE OF THESE.
Seeing AB Sr. and Hema Malini's "special appearances" was great. AB Sr. (with his ever-atrocious hair) has never not been a plus as far as I'm concerned. 'nuff said.
I love Daddy!Big B. How can you not?
Preity Zinta's not exactly my favorite actress. I liked her better in this than anything else I've seen her in, but I still wasn't overly wowed. Sometimes she was sprightly, but sometimes she was just… there. Her playback voice in this film was extremely obnoxious too.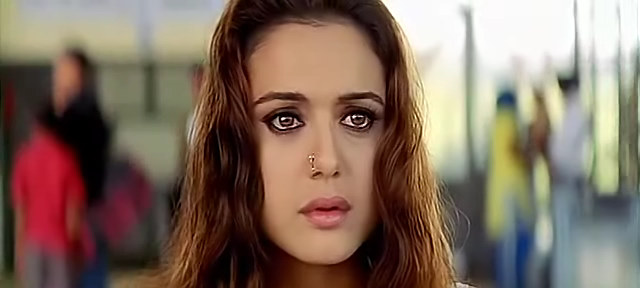 As much as I love Rani Mukherjee (which is like, a lot), I don't think she filled her role in this one. She plays Saamiya Siddiqui, a female lawyer in Pakistan, struggling to do "meaningful" law work instead of just arguing the cases for money like her former employer Zakir Ahmed (
Anupam Kher
… also always nice to see him).
But perhaps the best part of this film for me? You should see this coming… SRK! I can't help it. I'm constantly reminded of how much I love that man. In uniform, with random blond streaks, wearing cowboy boots (<3), old and gray… I love SRK! Pardon picspammage below.
The better question is how much do I love YOU in that uniform. The answer is A LOT.
I couldn't get a good pic of this, but he was wearing cowboy boots. dhaphdafphdafha
I've been told SRK gets better with age. He will be a fiiiine old man.
He also had unexplained blond hair, which was weird but OK.