Hey, folks. Long time no see. But a  movie as big as
Baahubali
called me to return to the blogosphere that I have sadly been neglecting.
My introduction to South Indian films on the big screen was a grand one this weekend (also an expensive one; not sure I can keep up with a $20 per ticket habit). Before I was sitting in a sparsely filled theater Sunday, my watched list included three
Tamil films
(including
Madrasapattinam
, which I have been trying to watch again ever since) and one Telugu film that had been dubbed from Tamil. But boy-o, the most expensive movie in Indian filmmaking history (last seen here:
Ra.-freaking-One
) and an epic was certainly a way to go.
I have some very mixed feels about it, but all could probably be summed up by this:
It's an entertaining aspiring epic held back by some more conventional entrapments.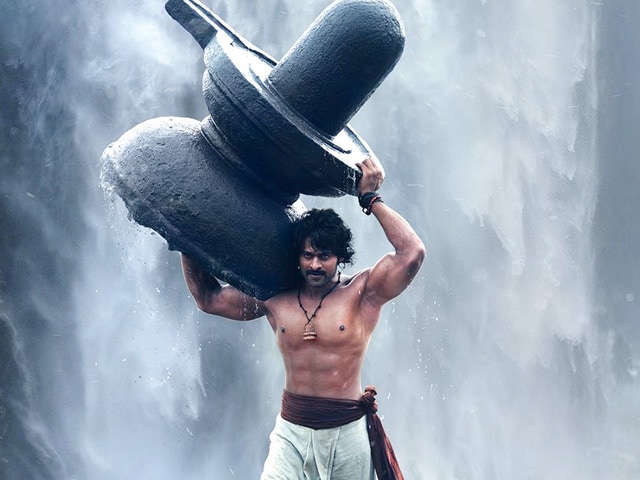 It's hard to provide a short plot synopsis, so here goes a long one: It opens with a woman struggling out of a tunnel carrying a baby. She wards off attackers, gets injured and slips into the river. She holds the baby up, says a prayer, and dies but holds him up until he's rescued. A village woman raises him; the villagers discover the tunnel but seal it because why not! Boy Shivudu grows up wanting to climb to the top of the Waterfalls That Never End and always falling down, miraculously not injuring himself despite hundreds of feet drops. Grown Shivudu (Prabhas) is proven to be insanely strong and good-hearted if rebellious — he carries a Shiva lingam under the flow of water to ease work for his adoptive mother — and then climbs the waterfall chasing a phantom woman. At the top, he discovers a whole new worlddddd (
cue Disney music
) and that the phantom woman is, duh, real… real bad-ass Avanthika (Tamannaah) from a tribe of people hellbent on rescuing some princess from The Evil Kingdom. He, ahem, romances the woman, takes on her quest and sets off to battle the kingdom's forces of evil, epitomized by this king dude named Bhallala Deva who likes to kill mythological-sized bulls for sport. After lots of hullabaloo, good Shivudu who obvs is not just Shivudu kills evil prince, then prince's bodyguard shows up and realizes THIS GUY IS JUST LIKE 'BAAHUBALI'! Gather 'round kids while we rewind 50 years to tell the story of said Baahubali: He was one of two princes vying for the throne of Mahishmati, having to fight against evil cousin-brother Bhallala Deva for the right from iron-fisted maa Sivagami (Ramya Krishnan as a total badass) who is currently ruling with no probs but has to give away her throne to a male descendant for some reason. But I digress. Baahubali is obvs the thinking man here, the compassionate one, so on, and also, if you needed more convincing, he does a dance number with some dancing girls while on a mission; obvs this is king material, guyz. Bhallala Deva is just pure evil always. You can see how this is going to end already, so the movie throws in a giant epic, awesome battle sequence that takes forever and distracts you from the obvious while further proving Baahubali is also savvy on the battlefield. YAY KING BAAHUBALI! But as you have already guessed, newly crowned Baahubali got killed by
somebody
, who actually confesses to everybody as the big twist. NO MORE KING.
END OF MOVIE.