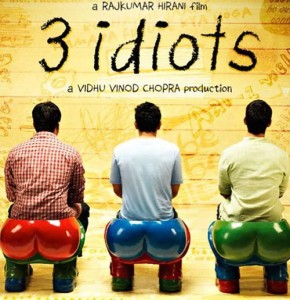 In keeping with the line of "highly anticipated films" that we seem to be on a streak of (with
Aisha
,
Kites
and
Madrasapattinam
) and a line of
Aamir Khan
, we now bring you a post on
3 Idiots
. We'd heard so many good things about this film, and images from Zoobi Doobi were splashed across a copy of The Plot magazine (BIG Cinemas' magazine) that Papaya has from early 2010. We were shocked and dismayed when this highest-grossing Hindi film of all time (unadjusted AND adjusted) was nowhere to be found for months on end — not on Netflix, not in any regular store, not in the first bazaar we went to in the end of March. Luckily, we found it at the second bazaar we went to in April (the one in my college town). And then in May, after we'd bought it from the bazaar, it became available in the local Target and Walmart. Last month it also became available at home on our cable's pay-per-view. Go figure.
So let's just say that 3 Idiots is a big hit, and we all three understand why. After watching it multiple times and raving about it, Papaya and I shared the film with our 14-year-old brother and Kiwi shared it with her fiance. Neither watches Hindi films, but both thoroughly enjoyed 3 Idiots.
I don't know that I can sing the praises of this film enough, but I'm going to take a heck of a crack at it because IT IS A MILLION KINDS OF WONDERFUL.
I will now sing the praises of this film in chorus with these fellows!
The film, which I found out afterward is quite similar to Dil Chahta Hai in premise, has an across-the-board appeal: There's youth, age, humor, romance, friendship, art and a moving statement. It has a dose of just about everything a person could look for in a film. There are tests being failed, weddings being crashed (twice!), manhunts going on, lots of big dream-chasing, people being electrocuted, and so, so much more.
I think a good deal of the power of this movie is indeed attributable to
Aamir Khan
. I love all three Khans in their own right, and I feel like Aamir is often the underappreciated or at least dark horse Khan because he doesn't have
Salman
's attitude or
Shahrukh
's charm and flair. But whatever Aamir may lack in overwhelming star power, I've always found him to have this buddy-buddy have-a-good-time quality that gives him a level of chemistry with
everyone
he works with. I have seriously never seen an Aamir film where he didn't have chemistry with his co-stars — male and female alike.
This film is no exception — the three-way bromance between
Aamir

,

Madhavan

and

Sharman Joshi
is fun and heartfelt (there are many manly tears!) and committed — Raju jumps from a third-story window rather than choose between sacrificing Rancho to the principal or disappointing his family by being expelled.
I want to be in her place right here, with that dress and everything.
The chemistry between Aamir and
Kareena Kapoor
is also electric. While Bebo does have a tendency to get on my nerves (she has since my Hindi-film experience began with
Kabhi Khushi Kabhie Gham
), she and Aamir were a perfect blend of zany and brilliant together and I never felt annoyed with her once. (Even though the thought of Bebo as a doctor quite frightens me. I'm glad Pia was always a medical student, never shown as an actual doctor.)
Aamir also has a zany adorableness that shines and shines and shines in this film (which I think is part of the reason that the
jodi
with Kareena works) and is one of the reasons why I increasingly love Aamir. Shahrukh has a quick tongue-in-cheek humor, Salman does strange things with a straight face (like
peeing on a haystack in Ready
), but Aamir is just downright goofy. AND IT IS ADORABLE. And on top of that, the man is pretty much pint-sized by my standards (I'm actually taller than all three Khans, but Aamir is particularly tiny), which I find all the more adorable! Yes, Aamir is by far the most adorable of the Khans. (And Sharman Joshi also has a level of this zany adorableness, though he's not on par with Aamir.)
SO ADORABLE WORDS CANNOT DESCRIBE IT!
I also love the soundtrack to this film. It's catchy, snazzy, fun, mellow and sweet in all of the appropriate levels. Kiwi, Papaya and I walk around singing and whistling "Aal Izz Well!" all the time.
The film also takes on real issues — the validity of the education system and student suicides — and grapples with them in powerful ways without allowing them to beat you over the head or be way out in left field like a lot of films (I'm looking at you here, Deepa Mehta). The film definitely has a darker side when dealing with gruesome suicide: One student, ironically named Joy, hangs himself from a ceiling fan, and Raju jumps from a three-story window to strike pavement below — pretty gruesome stuff. But it is a story about college and youth, and even the darker side of that can't drag this story down too far. The painful, weighty topic of suicide is balanced out by pee jokes and it WORKS.

In fact, I think this is a brilliant college film — possibly the most brilliant college film I've ever seen — because it captures just about every faucet of college: friendships, enemies, tests, the greater struggle of learning, growing up, facing parents, having fun, watching classmates fail, depression, pressure... And one thing that's utterly amazing to me is how well Aamir, at 46 years old, plays a college student so freaking perfectly. I think he'd play a better college student than me and I am one.
Such a perfect little crazy brilliant genius.

The questions that 3 Idiots poses about the value of education are also really thought-provoking. You have the character of "Rancho" who *spoiler alert* isn't actually Ranchoddas Shamladas Chanchad (what a name!) but goes through all of college under that name to get the degree for another man — and all Rancho gets out of it is the benefit of learning. Now, I really love learning. I really do. But there are times in college where the only thing that keeps me going is the knowledge that I'll soon have degrees to show for it (T-minus six months!). This film presents the question of how much do we really learn for learning's sake? How do we really experience learning when we're so focused on that piece of paper at the end? And also a slight related nitpick after this, since Rancho goes off and becomes a scientist after he falls off the radar... How does he do that without a degree? How does one secure research funding without a degree and credentials? Forgive me, I'm just a little skeptical.

The only other thing that bothers me really in this film is the scene where the baby is delivered. I'm usually not a big fan of babies-being-delivered scenes in films period, although I will admit that I saw great purpose in this scene. It shows that Rancho thinks on his feet and applies his engineering knowledge to real life (not that you didn't know that from the first scene where he electrocutes a guy with a spoon) and it repairs the divide between Virus and Rancho. Buttttttt for a film this well-made, you'd think they could have done better than one of the fakest looking babies I've ever seen in a film!
It was inevitable that even Virus would love Rancho at the end. He's that loveable.
Annnnd now that I went through this whole post, I really want to watch this film again! Unfortunately, I am in New York and my DVD is in Florida. -__-