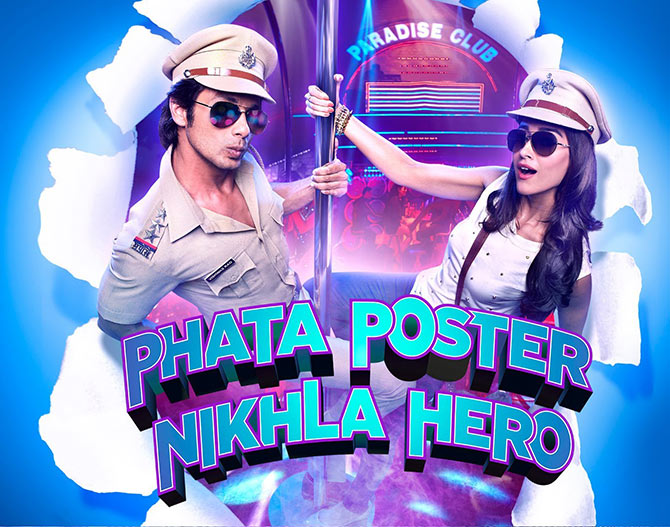 Summary: All Mrs. Rao (Padmini Kolhapure) wants is to see her son grow up to be the honest policeman his father never was. All Vishwas (
Shahid Kapoor
) wants is to go to Bombay and become a hero. Well, when he does, under the guise of joining the police force, he's mistaken for a cop by a serial complaint-filer Kajal (
IleanaD'Cruz
). So begins a very long tale of a guy who accidentally kicks bad guy butt (including his father's) and learns about being a real hero.
Y'all know I love dumb masala movies. I've written in detail
about why
.
Y'all also know I love Shahid Kapoor.
I think you can sense the big "BUT" coming.
Honestly, I do still love Shahid Kapoor. He does well with what he's given, and I'm glad to see him goofing off, but well, this movie is just not good.
I thought it would be good ridiculous, as most masala flicks are. And as pretty much as Rajkumar Santoshi films are (Andaz Apna Apna? Ajab Prem Ki Ghazab Kahani?). But it really is bad ridiculous.
The problem with this movie is that it is entirely incohesive and mostly incoherent. For one, the not-so-great songs (most of which besides Main Rang Sharbaton Ka annoy me) disrupt the narrative flow, as a fellow film-watcher said after the movie. That's the least of the movie's problems, but it is one and it is representative. Everything disrupts the flow of something else.
Like much of the movie, this was fun for about half the time. Then it got old.
Is it a funny movie about a guy hamming it up in poking fun at the super cop stereotypes? Well, yeah, for a little while. Before it decides to make up a series of increasingly wince-worthy coincidences that it pretends form a plot.
Hero's headshot, totally posed photo, accidentally winds up in the paper as a real policewallah while he is being mistaken citywide for a policewallah — and that too into a newspaper his mother will read far away? Of course!
Police commissioner living next door to hero-masquerading-as-cop and accepting his story and then later conscripting him into service? So natural.
Hero's long-"dead" father reappearing as the villain? Yup. And unfortunately this is not a Crimemaster Go-Go style villain. He just has the potentially fun but unwarranted name Napoleon.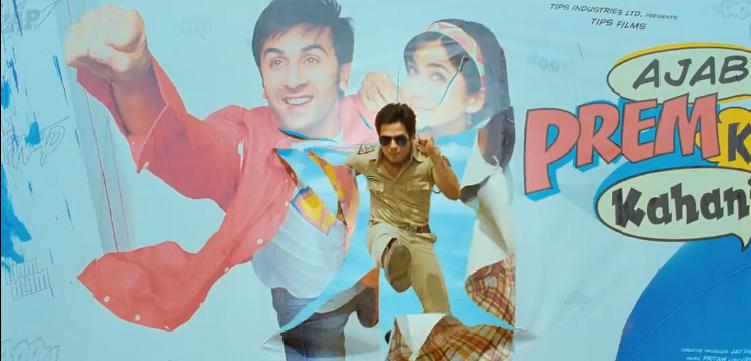 Add in some painfully overt moralizing and some half-hearted romancing and you've got yourself a right fine mess.
Though I wouldn't say I hated the movie, I will say I felt like it had a lot of squandered potential that left me frustrated. The laughs stop coming after a while, replaced by boredom and the aforementioned wincing at plot coincidences.
Shahid and Ileana are both fun, cute and not bad to look at. But even they can't save this one. It's a shame. I really wanted to like it. It looked like fun.
P.S., Why did
Akshay Kumar
get thanked in the opening credits? To throw us off of the fact that
Salman Khan
was the real guest appearance? Is this whole movie just that confused?