So I actually wrote up this post a while back when I first watched this movie (as in, before we even started the blog), but I just now realized that I never posted it! Whoops!
So here we go:
Love Aaj Kal
(Love These Days).
Even though both Papaya and Kiwi will drastically disagree with me, I really enjoyed this movie.
It's sort of a double movie, happening on two timelines at once. One story revolves around British Indians Jai (Saif Ali Khan) and Meera (Deepika Padukone), a 'modern' couple who fall in love but agree to keep cool and not be too over-the-top; it's supposed to be all carnal. The move is pure logic, because Meera wants to go to India to work on restoration projects and Jai wants to go to America to work on bridges. But the pair agree to remain friends and keep on talking to each other once Meera moves to India.
Then Jai, who's dealing with missing Meera even if he won't admit it, meets Veer Singh (Rishi Kapoor), an older man who owns a café. The second timeline then appears when Veer begins recounting to Jai the story of his youth in 1960s Delhi, when he crossed India for Harleen Kaur (played by some random Brazilian actress), a woman that he never spoke to but loved anyway. (In the flashback timeline, Saif also plays the young Veer and does a good job of switching back and forth between the two.)
Overall, this film was really Westernized for Bollywood. At least in the modern-day timeline of Jai and Meera. Lots of kissing, talking about sex, the whole storyline… I know Bollywood movies are increasingly set abroad, but this one really could have been a Hollywood movie if it wasn't in Hindi… Well, and if there weren't songs and dancing. Those don't really happen much in American movies.
Which brings me to the foremost thing I learned from this movie: Saif Ali Khan cannot, cannot dance. When I saw Kal Ho Naa Ho about a month ago, I thought, "Maybe it's just because he's next to SRK and you can't really compare them." Like seeing Shahrukh Khan and Salman Khan dance next to one another in Karan Arjun – Sallu just moves so differently than SRK that you can't tell anything about either one's dancing with them next to each another. But after seeing this movie, my theory is confirmed: Saif cannot dance. (I know, let she who has rhythm cast the first stone… I can't dance, but I'm a darn good stone-caster!)
The other thing this movie confirmed about Saif? Even if there's no way he could ever be a young Rishi Kapoor, he looks better as a hairy-faced Sikh. I'm often a fan of facial hair on guys though not often a fan of facial hair on Indian guys, but I have to say, it's becoming on Saif.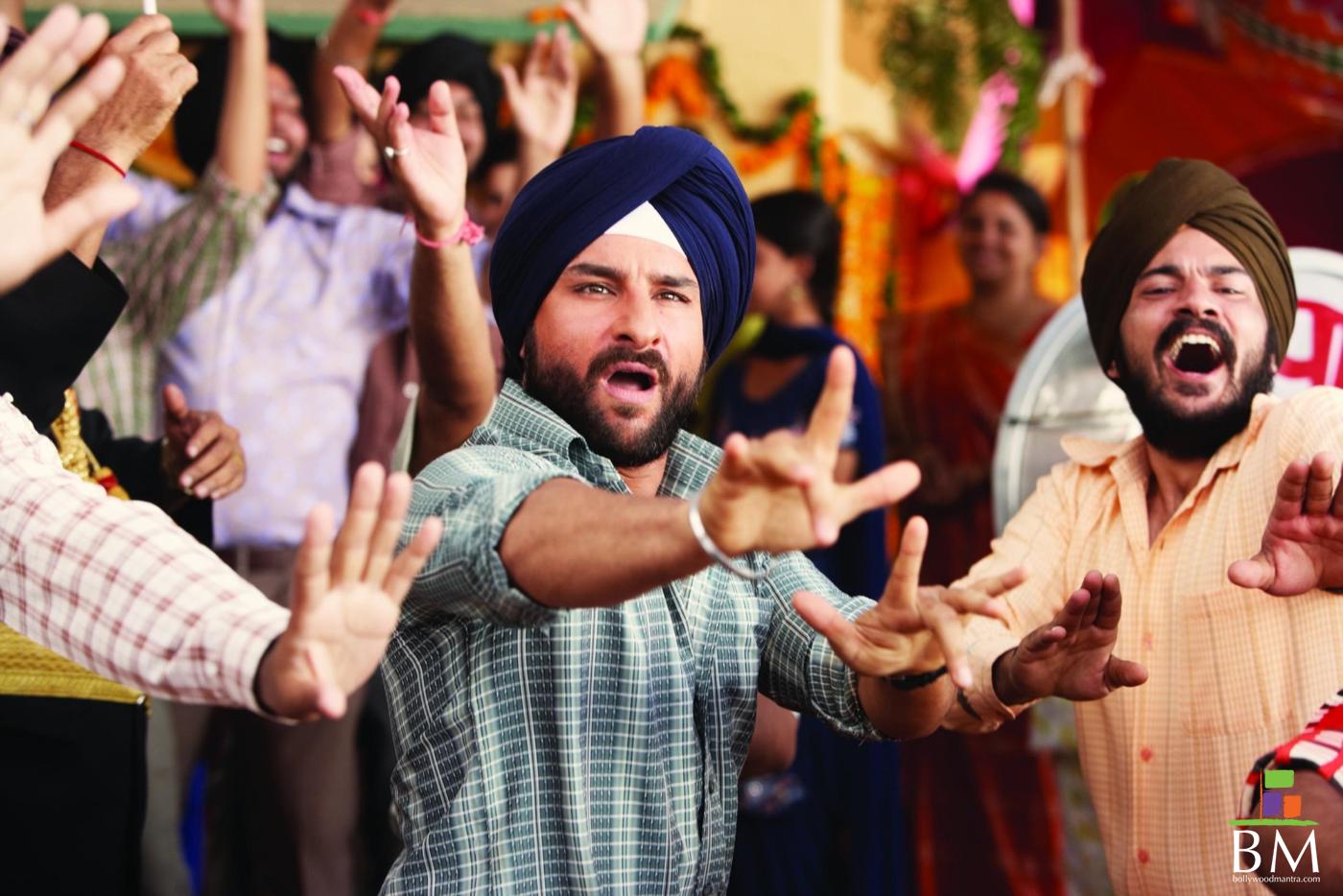 Anyone else think Saif needs to keep the facial hair?
But back to the music – I'm pretty sure I could have done without all of the music in this movie. That silly "We Twist" song annoyed me to no end. It served pretty much no purpose whatsoever. That being said, I don't mean it would be fine without the songs (well, except that one). The placement for songs was fine. Just the quality of the songs themselves had me retching.
But overall, I really loved the movie. I thought it was of great quality and quirky to boot. It was distinct, which I feel is a quality that Bollywood movies (and also a lot of recent romantic Hollywood movies) struggle to achieve.
It also felt like a good dip in the darker, more complicated side of love – and mixing love and logic – that still has that wildly romantic, satisfying Bollywood happy ending. For the Veer-Harleen timeline, Veer shows up to thwart Harleen's wedding after being beaten by her family, and Jai finally realizes what an idiot he is and leaves San Francisco to come to India for Meera. That doesn't mean along the way there isn't a chance for heartbreaks: It takes Meera actually marrying someone else for both Meera and Jai to come to the realization that they love each other.


The scene where Meera leaves her new husband (yeah, plot aside, leaving
Rahul Khanna
should be a crime!) in order to be with Jai and calls him just to have him announce that he's moving to San Francisco? Probably one of the most heart-rending scenes ever.
SO SAD. And so brilliantly acted by Deepika.
But ultimately, it's all OK in the end because Jai comes to his senses and comes after her. Like I said, it's still got the happy ending you're looking for, even if it explores a lot of pain along the way. Ultimately, it's the pain that stretches across most of the film that makes the happy moments – and especially the ending – feel so much more powerful and worth it.