SO ENDEARING!
Now I know Paagal Papaya already weighed in on the film "
Hum Dil De Chuke Sanam
" but I figured I would go ahead and drop my two cents too because I felt like I had a lot to say, even if it is somewhat similar. (Now, I watched the movie before I brought it to Papaya, so if there are similiarities, she's the one stealing from me! :P)
My primary reason for wanting to watch this movie, I'll admit, was wanting to see
Aishwarya Rai
and
Salman Khan
together. As much as I've read about, well, their tumultuous story, it made me curious.
Well, let's just say as far as that goes, I certainly wasn't disappointed. The electric chemistry of a couple falling in love is so thick in the first half and the forced separation that brings you up to intermission is so painful that it's beautiful. The wild, carefree, mischievous relationship that evolves between fiery-spirited Nandini (Aish) and free spirit Sameer (Sallu) felt like gold to me in the first half.
When I first started this movie, I was wowed by the quality of everything. The sets are lush and beautiful, the camera angles are great, the story pretty well-crafted, the relations between characters are rich, the whole thing is upbeat, and believe it or not, the thing is darn amusing. The music and songs, too, are simply wonderful, from the painful ones to the joyful.
I think Sallu was my biggest shock in this movie. OK, first, let me list the other movies I've seen with Sallu in them:
Marigold
(2007),
Karan Arjun
(1995),
Kuch Kuch Hota Hai
(1997) and his cameo in
Tees Maar Khan
(2010). Yes, I know, that's very limited. Lots of other Sallu movies are on my Netflix queue; I just haven't gotten to them yet. I've also watched plenty of interviews with him, clips from other movies and some performances. I guess based on what I've seen, my image of Sallu is of the too-cool-for-you, arrogant bad boy. Even his dancing (which is so stiff and unenthusiastic) has relayed that image to me. Don't take that the wrong way – I'm just being up front in that that's the image I had formed in my mind.
This movie blew that image away. As half-Italian, half-Indian singer Sameer who's come to India to learn music from Nandini's father, he's crazy, joking, hilarious, adorable, mischievous, an artsy musician… Everything I've never seen Sallu be. I'm sure this isn't news to anyone else, but it was so different for me and I
loved
it. I could stand to watch so much more of this Salman Khan than the sulky bad boy we seem to have now. (Don't take this joke the wrong way, but I remarked to Papaya, "This must be what a young and in-love Sallu was like, not the bitter old man he is now.")
I don't know that I came into it with any similar expectations or ideas with regards to Aish, but I will say the caliber of her performance was better than I expected too.
This movie threw me for a loop, then, in the first half, especially Sallu. It also contained what I hold to be the humorous scene I never ever never ever would have expected to see in a Bollywood movie, and thus probably the most hilarious.
That being said, I was surprised and dismayed by the mess of the second half. After reading the description of the movie, I probably should have known better than to expect an ending that brought about what the first half made me want. I mean, this movie was made by
Sanjay Leela Bhansali
, the man who brought you
Devdas
(which I have not seen yet, but trust me, I know all about what happens). Once again, I should've known better.
After her father banishes Sameer back to Italy, Nandini is forced to marry Vanraj (
Ajay Devgn
), who fell in love with her at first sight while she danced and sang about lemons at a wedding. Yes, I kid you not. Then Vanraj is such a nice guy that he takes his wife that doesn't love him all the way to Italy to hunt down Sameer. To spoil the ending, they hunt down Sameer only for Nandini to realize she's matured in the process and now loves Vanraj.
After an extremely well-woven first half, the second half just entirely unraveled for me. There's uber bad dubbing of the Italians, which is so bad it's painful, and too many convenient near misses and too much bad luck for me. And Sameer and Vanraj meet and practically spend a whole day together without Vanraj realizing HELLO, this is the Italian-Indian musician we've been searching for? The well-woven plot, like I said, is just coming unraveled.
And let me say this before I go further: I sympathize with Vanraj
a lot
. Probably more than I ever have with any other peepeeman (for explanation of this term, see
Papaya's post on this film
). But at the same time, the spark that's in Sameer and Nandini just isn't there. Maybe it's because you just can't successfully throw someone else into the equation of a Salman Khan and Aishwarya Rai that were actually in love. That being said, and please don't to be getting offended, but I just don't like Ajay Devgn. I think he's a good actor, even amazing in the amount of sympathy he makes you feel for Vanraj, but I just can't like him. Even in
Chori Chori
, which is the first movie I saw with him and in which he was clearly the hero, I couldn't seem to like him.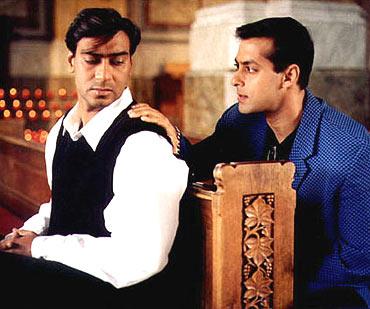 And let me again preface a statement by saying, JOKE FORTHCOMING (because I accidentally offended Ajay fans on Twitter with a similar statement the other day): I mean, speaking purely on aesthetics, given the choice between Ajay Devgn and Salman Khan, who are you going to choose? I mean, really? Let's be honest. Obviously Nandini did not think this through fully. ;)
Yes, on an intellectual level, I can understand the plot arc of this movie. It's an attempt to fundamentally reaffirm marriage – even one arranged by your parents against your will – and a genuine self-sacrifice in love. It's also about maturation and learning to appreciate what you have. But at the same time, even if I understand it, the ending feels marvelously unsatisfying to me. As far as I'm concerned, you don't cross oceans and go through torturous pain for a love that doesn't exist inside you.
But then again, this is just my two cents.