A book? Why is a book the first real post we have on a Bollywood blog, even if it is a Bollywood book? Well, mostly because I had typed up my comments a few weeks ago when I actually finished the book. We'll get around to actual movie blog posts later (I actually have a few saved up for soon but I don't want to monopolize the blog!). Right now, there's a Shah Rukh Khan biography to talk about.
So, I had things I greatly liked about this book and things I liked less. Overall, I think I'd generalize it as more contradictory and confusing than enlightening: It has general moments of clarity and brilliance that are shortly thereafter bemuddled by statements from the other side.
The best example I can give is a difficulty in reconciling the Shah Rukh that Anupama Chopra paints as shy with girls and who was awkward when dancing, with the Shah Rukh that was the life of the party and a crazy dancer or with the Shah Rukh who almost always had a female best friend (since childhood) and was as comfortable with his feminine side and around women as his character Raj is in

DDLJ

.
The story is an insight into Bollywood that I was looking for, with a nice glimpse into the family legacies, the connection with the Mumbai mob and critical reception globally of Hindi movies.
"

Indians suffer from a particularly virulent case of movie madness. … In a country mired in poverty, crowds, and oppressive heat, each day some 15 million people troop into over 12,500 cinemas to watch a movie.

"
The opening and ending chapters gave me some hope that I am neither the craziest SRK fan nor am I alone in my love.
Many of the anecdotes in the book were great. They had me either laughing or tearing up appropriately.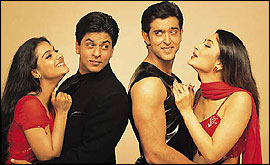 I felt like the book was full of holes. Salman and Aamir Khan (and several other actors) were kind of casually dismissed and there wasn't much mention of any of SRK's heroines or fellow heroes; his sister Shahnaz was essentially mentioned only in their father's death scene (which made me so curious!!!), even Gauri seemed to fade off and his kids were barely mentioned. This made it feel like it was neither a solid glimpse of Shah Rukh's career (and the reign of the Khans in the 90s) nor of his life. And after explaining Shah Rukh's "fall from grace" and the bitterness over it and subsequently Hrithik Roshan's rise… If Chopra was going to take the time to explain all of that, I don't understand why

Kabhi Khushi Kabhie Gham

didn't deserve more than a very, very passing mention in the last chapter.
As much as a biography's allowed to mix in the biographer's opinion, I felt like it was a little much. I felt almost like Chopra decided, "These are the SRK movies I like, and these are the only ones I'm going to talk about."
For a book marketed overseas as a glimpse into Bollywood, it sure wasn't very forgiving or inviting to an international reader. Even if I'm an international reader who likes India (which obviously I do), there's only so much I can read about the rapid growth of the Indian economy and the coverage it received.
Yes, the book helped me understand some of the things I was after. I just wish that it was consistently good and functioned as a whole rather than in pieces.
I think SRK's so-so face says it all.