NOTE: I wrote this a few days after seeing the 2014 TMNT in early August. I then forgot about its existence, but stumbled upon it again and decided to post.
When I heard that the heroes on the half shell were coming back, I rejoiced.
It was the rebirth of one of those rare things that my siblings and I have all cherished, from big bro down the line to the 23-years-younger baby bro. Cowabunga!
When I heard that they were being rebooted by Michael Bay, featuring Megan Fox, I all but cried. And yet within me, I found a little hope.
For everything that has been wrong with its sequels, I quite enjoyed the first
Transformers
movie (the first two times I watched, anyway), a reimagining of something that was a blip on my childhood memory. Maybe the reason that I so thoroughly hated this TMNT by comparison lies in that the franchise, from the worn-out videos and then DVDs of the movies to the old cartoon series and then the new, was more than a blip: My three closest-in-age siblings and I each have our own turtle; I have Leonardo, sister Lexi has Mikey, brother Kendall has Raphael and brother Daniel has Donatello (fittingly, the leader, the goof, the hothead and the geek).
But the revamped, 2014 version turtles themselves I have no quarrel with. They're wicked cool, bro. They may look a little weird, but these CGI turtles are totally worth a reboot. Their personalities shine through in their now slightly divergent appearances and the CGI gives them much more facial expression (Megan Fox should drop the plastic surgery and just go CGI). Best of all, they're actually funny, especially Michelangelo.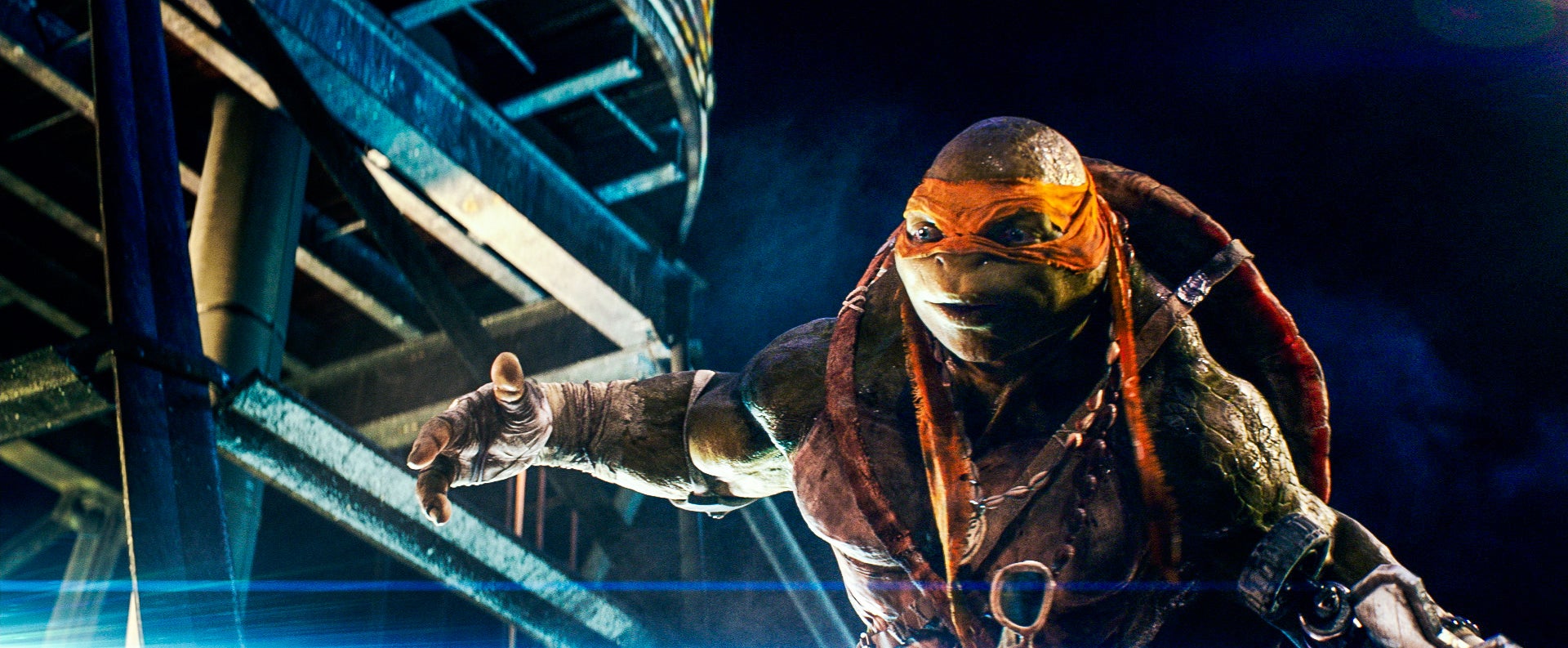 Mikey being funny (not hitting on Megan Fox).
Everything else is a different story, not worth any movie, let alone a reboot of a much beloved franchise.
What people have been saying about TMNT's confused lack of core audience is definitely true; it has things clearly leveled at those of us that grew up with it and yet other bits that would only please the 10-and-unders. And blatantly bad product placement that no one can enjoy.
The plot in and of itself is a joke: The bad guys plan to release a dangerous toxin into the air, holding the mutigen antidote to simultaneously make money and wrest control of New York. This plan was derailed 15 years ago when the lab with the antidote research burnt to a crisp, but it all gets revived once they find out the mutigen-injected turtles LIVE (more on this in a moment). Yet no one seems to stop and think, "Oh, hey, we can just release another toxin for which we have the cure!" The idea that the baddies have held off launching a deadly toxin stored in the spire of their not-so-secret mid-Manhattan lair for 15 years is totally absurd. (Also, I guess this means in the sequel already announced [UGH], Bebop and Rocksteady/Tokka and Rahzar won't make an appearance, since the bad guys' inability to reproduce the mutation-causing formula is the whole problem here.)
The movie has several of the action movie plot holes you'd expect. Why is Shredder, master of the Foot (and now pseudo-Wolverine Transformer), left to fight the turtles solo? How do Shredder and the other bad guy fly in on a helicopter and the turtles slide down a mountain, climb through the sewers and still get to Manhattan in time?
What was worse than that for me, though, was this secondary, almost-forgotten bit in which an injured Splinter lies alone in the sewer for about the last third of the movie, until the turtle brethren come back to inject him with some of their mutigen blood and save him. Except, um, guys, Splinter was in the same lab, also a test subject injected with the stuff — as evidenced by the fact that he's a 4-foot-tall rat. It's the most horrifically stupid of oversights.

"Megan, we must talk about that awful acting."
Despite that whole stupid "subplot," Splinter, for the record, is also a much welcome update to the rodent sensei (aside from his thoroughly unsuitable voice). He gets his own action scenes and a tail worthy of a mutant ninja master (although the new explanation for how he became one is thoroughly weak).
So so far, yes, I have said I'm happy with the turtles and the rat. But yes, Shredder's new costume is kind of horrible and dumb. But then in an even bigger problem, the film relies too heavily on Megan Fox — whose already lackluster acting is made all the worse by her stiff upper lip (from collagen, folks) — as its human star. If there's one thing we all know, it's that Megan Fox can't carry a movie if her life depends on it, and why anyone even TRIED when there were CGI turtles who could do the job instead is beyond me. Wonderfully choreographed fight scenes — the movie's only other redeeming quality — are ruined by cutting to Fox hiding, gasping and looking scared.
Maybe this is just me as someone in the news biz (and now in the entertainment side, no less), but the young-reporter-chasing-a-serious-news-career storyline is done to death and it really has no place here. (Especially since April seems to want to do "investigative" journalism, which mostly happens in newspapers and not local broadcast anyway.) April's role investigating the Foot is what got her into the fray in the first place in the 1990 movie; the same could have been done here easily enough, certainly without getting some borderline sexist stuff about her career into the mix.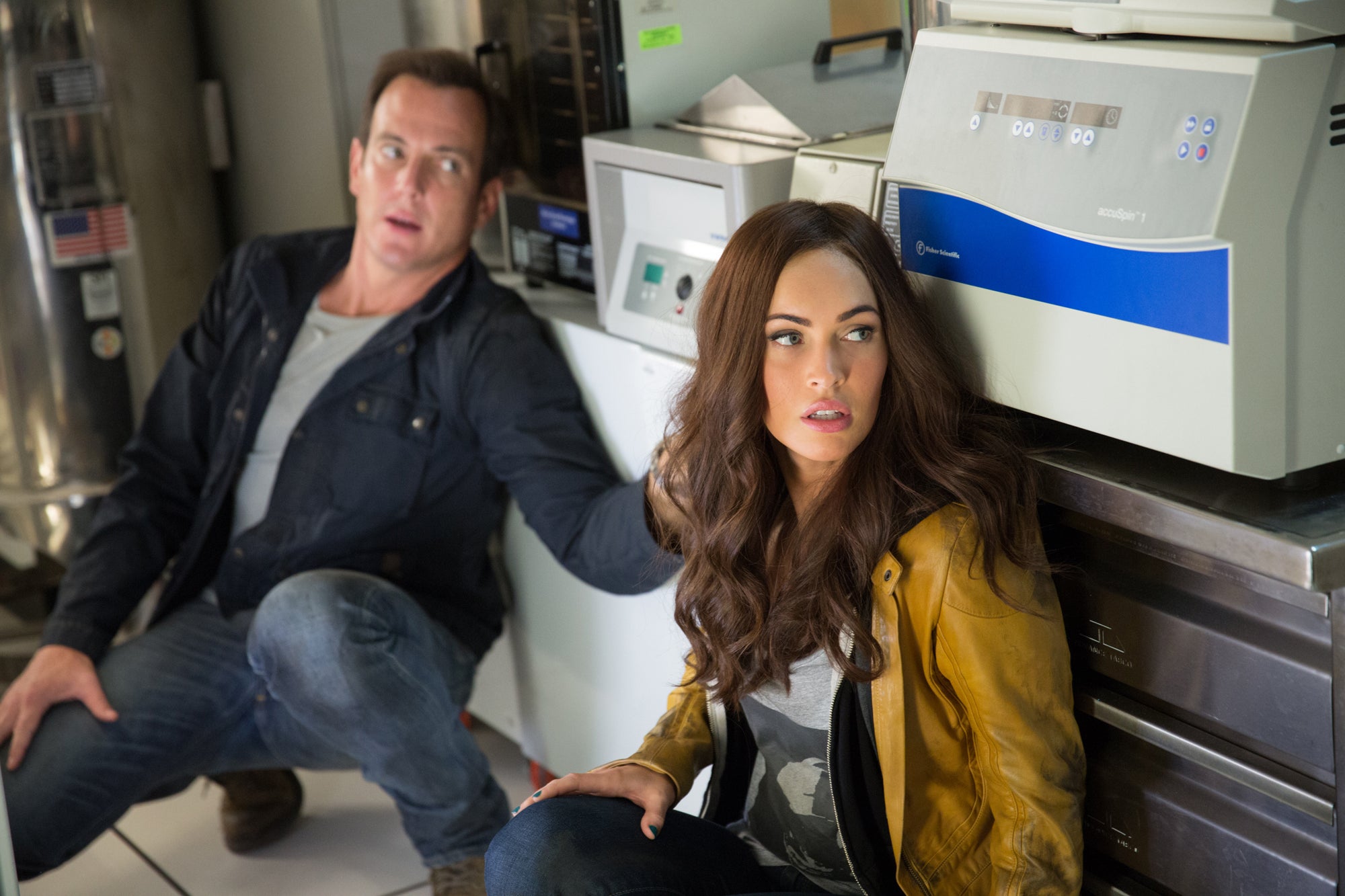 The face Megan Fox makes half of the movie as a rather regressive stereotype, plus awfully not hilarious sidekick!
But then that really is a pretty solid description of what went wrong with this movie: too much tinkering for the sake of tinkering that has complicated rather than simplified things and too many attempts to explain what didn't need explaining (even the turtles' legendary fondness for pizza has to have a backstory).
And that's one of the reasons why this movie totally reeks of Michael Bay even though he didn't direct it (probably too busy plotting to ruin more '80s-'90s pop culture). But I'll admit there were times when I wish he had. The slow and yet rushed start, for example, seems to say director Jonathan Liebesman understands filmmaking very little at all, even less than the dreaded Bay. The setup is messy, confusing, poorly shot, horribly paced and so on.
As one of my older brothers said, "It's not going to be winning any Oscars." That's true, but I still don't think it's too much to ask that a big-budget
reboot
of a franchise with
pre-determined parameters
be coherent and not too painful to watch. Dude, this is a tale about teenage mutant ninja turtles!
How the hell could you mess that up?