Saawariya (My Love) (2007):
Gulabji (
Rani Mukherjee
), a prostitute who frequents RK Bar, recounts the story of the bar's singer Ranbir Raj (
Ranbir Kapoor
), who blows into town with his idealism and sweeps right into the hearts of the city's entire red-light district because he treats them with respect regardless of occupation. One night Raj sees a mysterious frightened and depressed girl dressed in black and follows her, saving her from a drunken man. After escorting her home and learning that her name is Sakina (
Sonam Kapoor
), he falls in love. Before he can tell her he loves her, Sakina reveals that she's in love with a man named Imaan (
Salman Khan
) and that she's been waiting for him to come back for her for a year. Despite being heartbroken, Raj decides to help her.
This one falls into the all of the same categories as the other
Sanjay Leela Bhansali
films I've seen (
Devdas
,
Hum Dil De Chuke Sanam
): The cinematography is GORGEOUS, scenes, sets, camera angles, etc.; the cast is top-knotch; and the storyline is, in the end, not what you hope for. Watching SLB films, I think, is a certain degree of masochistic. You have to love the film because it's just SO well-made that you can't help but love it, but at the same time, you know it's going to end badly. Saawariya is no exception. So yes, I've done it to myself again with this one, but I know well enough now that I'm definitely steering clear of
Guzaarish
, which I was only toying with the idea of watching.
Saawariya is oddly reminiscent of Devdas (which, fyi, I have now seen but I can't seem to form a coherent post that would be welcomed by the public) in possibly too many ways. There's a hooker, an ultimately doomed friendship between a man and a woman, and a man scorned (if you will) that is the central character.
The cast of this one is pretty much, like I said, great. You have Rani Mukherjee, who I always love; Ranbir Kapoor who, as I've said before, you love even when he's a TERRIBLE character and in this film his character isn't terrible but pitiable; and Sonam Kapoor, who while possibly not the best has a coy cuteness to her that's generally likeable. (And also considering, which I didn't know at the time, that this was Ranbir's FIRST film, his role is actually remarkable. A fantastic performance all around.) With such an ensemble class of marvelous actors, the film is sure to be liked.
This song is strange in many ways (why is he dancing naked in front of a window? Spending too much time with prostitutes?), but it shows many of the reasons to love Ranbir Kapoor!
The only person who should have been but isn't a valid addition to the cast is Salman Khan. I feel like Sallu, being the huge box office draw that he is, should have been able to do more. In this film, he's just
there
. Maybe it has something to do with remembering
Hum Dil De Chuke Sanam
and Aish. I don't know. All I know is that in a film of great performances, Salman's just there. And he isn't even there that much. Maybe three or four scenes. He can't even achieve
peepeeman
status.
Also, Ranbir and Sonam seem to play well off of one another. Sonam plays a mostly dour role for most of this film and Ranbir (in and out of this role) is a nearly constant source of light and joy that's infectious, so the pair works well.
Sonam mopes while Ranbir smiles, but it works for a pair.
In
a previous post about Dil Bole Hadippa
, Paagal Papaya and I talked about how Rani Mukherjee while not old has a maturity to her that didn't mesh well with youngster
Shahid Kapoor
in that film. I was afraid the same might be true of Rani and Ranbir, but with a blend of seductive pessimism and naïve optimism, they mix as well as Ranbir and Sonam despite the acting age/maturity gap. Even when the dynamic of the relationship abruptly shifts from an older, worldly woman toying with a young, idealistic man to something darker, it
still
works. I think maybe Ranbir is like
Aamir Khan
where he's just such a great personality he can't help but have chemistry with everyone.
1. I love watching Rani dance. 2. She works as well with him even though she plays a prostitute!
Again, the cinematography is beautiful in this movie, and like Hum Dil De Chuke Sanam and Devdas before it, Saawariya has some scenes that are just so aesthetically beautiful they literally took my breath away. I can't figure out the exact setting, which looks like Venice with its waterways but is distinctly Muslim. If anyone can shed light on that, I'd be much obliged.
And another thing I've noticed about the cinematography of SLB movies – they have a signature color. Hum Dil De Chuke Sanam was markedly red, Devdas was gold, and Saawariya is blue. The blue and the fact that this entire film seems to take place at night give the film an eeriness that led Paagal Papaya to refer to SLB as "the Tim Burton of Bollywood." With the sorrowful underpinnings that run through all of his films and the particularly dark tones of this film (there are flashes of ever-joyous Raj being downright violent), I'd have to say that's possibly an apt comparison.
Color progression: Bright, flamboyant red...
Rich gold...
Creepy blue.
SLB films tend to make a statement and make it boldly. Hum Dil De Chuke Sanam is about the validity of marriage and maturation. Devdas is about doomed love and the pain of life. Even without seeing it, I know Guzaarish is about having the right to die on your own terms. Saawariya… Maybe gets a little mixed. To a degree, it's definitely about choosing to fight unhappiness. Other than that… Not really sure.
It almost feels like a reversal of Hum Dil De Chuke Sanam. In HDDCS, Nandini goes from the immature love fling she has with Sameer into understanding how deep Vanraj's love for her is because that he's willing to sacrifice everything for her happiness. In Saawariya, Sakina has a very childish fling thing for (not even WITH) Imaan and Raj sacrifices for her happiness to bring them back together, but Sakina ends up going right back to Imaan, who's pretty much ditched her until then, when he arrives. I don't know – maybe SLB just thinks young love is doomed and only "mature" duty-driven love will survive.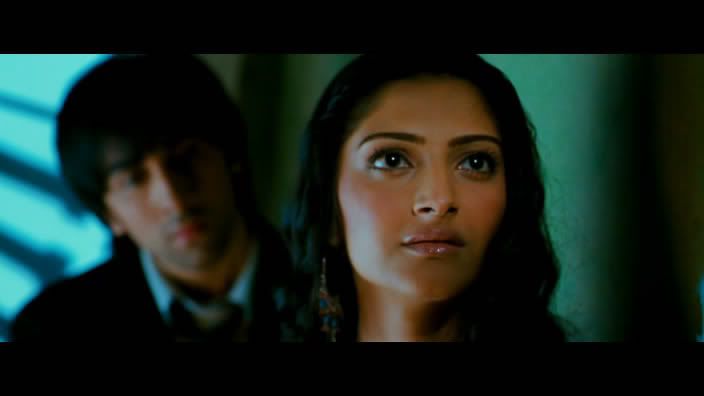 Happy? If you were, SLB says you're doomed to a duty-love instead. Obviously Sakina is obsessed with duty-love.
Overall, if you can stand the masochism of SLB films and the fact that this one's slightly incoherent as far as statement goes, it's worth watching for the aesthetics and the chemistry of most of the cast.