Let me preface this post by saying SORRY we haven't posted in a while. I was caught up in the mess that was final exams and final papers, and I haven't been able to watch as many films, much less post about them. That being said, I've gotten backlogged and have posts in the works for
Bachna Ae Haseeno, Vivah, Devdas
and
3 Idiots
(probably in that order) and will be watching
Mere Baap Pehle Aap
tonight and
Chalte Chalte, Action Replayy
and
Kaho Naa... Pyaar Hai
within the next couple of days. So! Hopefully plenty of posts soon. :)
Without further ado, onto
Mujhse Shaadi Karogi (Will You Marry Me?)
.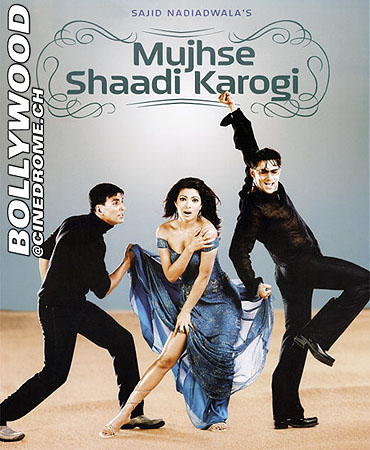 Synopsis: Since childhood, Sameer has had problems with his temper, even punching the principal at school. As an adult, it's about to send him to jail, so he relocates to Goa where he works as a manager at a resort and meets beauty Rani Singh, who he instantly falls head over heels for (pretty much literally: He falls from a balcony when he first sees her). But then Sunny comes to town and begins making Sameer look bad to everyone from Rani to Sam's landlord. Let chaos and rivalry ensue.
Watching this movie was stressful. Everything that COULD go wrong DID (on purpose, of course) and it was enough to drive you crazy. Overall, the point of the film is that Sunny aka Sameer's childhood pacifying friend Arun in disguise (
Akshay Kumar
) is trying to teach Sameer (
Salman Khan
) to not get angry by, well, doing things to infuriate him. Despite the fact that this whole premise is pretty much pointless because Sameer never really loses his temper and all it really does is confuse Sameer's girl Rani (
Priyanka Chopra
)… In the process, Sunny pretty much infuriated me and brought up
my
blood pressure! Forget Sameer,
I
wanted to choke Sunny.
Despite that, I still can't help but love him at the same time because I freaking love Akshay Kumar because that man is HILARIOUS. Completely and totally. Don't think so? Watch this song. Yes, he enters riding a boat like a horse. Yes, he and Sallu are dancing in grass skirts that are obscenely short.
I decided after watching
Hum Dil De Chuke Sanam
that I like watching Sallu be… not Sallu-like. Like I said in my post about that film, I'm so used to Sallu's current image as some bitter, quiet, angry bad boy (who also paints beautifully… maybe "angry, tortured soul" is a more apt description). And I love seeing him be NOT that, even though it makes my head spin. He had his angry bad boy-ness in this film, but he also had his humorous, lighthearted adorableness.
Sallu as Sameer is some weird hybrid of bad boy with a vicious temper and complete dork with social awkwardness issues. He's also a violent man who beats his way into biker gangs but a strictly religious fellow who saves all of his money and puts it aside for his grandmother's eye surgery and sister's wedding. Oh, and he's a lifeguard who plays guitar and rides a motorcycle and paints. Can they make up their minds about this guy? For that matter, he seems to have Hindu gods set up on his mantle, but he prays to Jesus later in the film. I don't think they could even make up their minds on Sameer's religion.
Sameer's savings pots for his grandma's eye surgery, his sister's wedding and his sister's education vs. angry Sameer...
No offense to my dear Kiwi, but
Piggy Chops
is not my favorite heroine. Does she hold her own in this film? At points, I want to say "yes" – she does a good job of "do I love Sunny or Sameer?" But at points, I want to say "no" – did her character stick with me? …not much. I think I may consider Rani a bystander caught up in the Sameer-Sunny feud more than a full-fleshed character in the story. I don't know whether it was Piggy Chops herself or just the role, but Rani doesn't feel like a very mature, rounded character.
I don't feel like Priyanka really holds her own. Although sandwiched between Akki and Sallu... What is there to do but debate your choices and enjoy the man candy?
Speaking of characters, the supporting characters run the gamut. Sameer and Sunny's landlord Duggal is probably a little preposterous but hilarious – after sustaining a head injury, he alternates between being blind, deaf or mute depending on the day. Rani's father the Colonel is frightening like crazy (although
Amrish Puri
always ALWAYS scares me… See
DDLJ
and
Karan Arjun
). But the astrologer Raj who tags around after Sameer… I was kind of wondering the whole time what purpose he really served. Samir's grandmother also felt a little thrown in, barely used.

And the clothes in this film… Ay. I look at pictures of myself often and think, "MAN, clothing from 1997 to 2005 was ultra tacky! What was I thinking?!" Um, well, this film assured me that I was certainly not alone. Despite the fact that Rani is supposed to be a designer, the clothes are pretty horrendous! Very bright, and not in a good way. I know this is Goa, the beach, but come on. This is a little much, people.
Sallu, please don't wear outfits like this again.
But if the clothes are frightening, the music is great. I feel like I'm paying attention to the quality of music in the films I watch more and more, and the music in this film… All good! From the title track (above) to Lal Dupatta… And despite the frightening shortness of Sallu's shorts/sarong thing in this song, I think I adore this song the most. (And think this song, about the shortness of youth, was a little truer than Sallu realized.
Oh, and something else great about this film… Cameos from these people!
Cricketttttttttttt.
The climactic scene takes place at a cricket match (a "friendly match between India and Pakistan"… I'm not convinced that ever exists) where, well, actually cricketers are. Kapil Dev, Navjot Singh Siddhu, Harbhajan Singh, Irfan Pathan, Parthiv Patel, Srinath, and Ashish Nehra make appearances. As Papaya can attest to, I actually shouted with delight when I recognized Harbhajan and Ashish. (Sorry, I forgot to screencap the actual cameo before sending the DVD back to Netflix.)
But anyway, overall, I enjoyed but wasn't wowed by Mujhse Shaadi Karogi.