Two nights ago, the time finally arrived when I could make it to see Jab Tak Hai Jaan, the film I had been most waiting for this year.
After some 48 hours, I've still been asking myself was Jab Tak Hai Jaan everything I had waited and hoped for? Probably more so than any other movie I have heavily anticipated. I wrote last year about a noteworthy Diwali release fizzler of a film *cough cough* that "I'm so excited for it that it almost can't live up to my expectations." I'm so so glad that this wasn't the case with JTHJ.
It's one of those very rare films that I want to see in the theater twice. (The only other movie I've done that for in recent memory was The Avengers.) I think with a new SRK romance and the last glimpse of the directorial brilliance of Yash Chopra, I was bound to love it — though not quite as much as I do. It ran me through the emotional ringer, from tears to laughs to heart-melting.
Shahrukh and Yashji (may he rest in peace) know how to charm your socks off, no matter how much of a cynic you are. Love is their game, and they know how to suck you in. Even by playing a cynic, SRK can make you believe in love.
And while we're talking about love, can we talk about the loving going on in this movie!
Not only kissing scenes, but also a (quick) sex scene! What a jump for Shahrukh! Part of me thinks only Yashji could have convinced the staid, staunchly conservative SRK to do this. Another part of me wonders if aging SRK is just trying to keep up with a younger generation of lovers.
He does, after all, literally woo two generations in this film. And unlike so many people I've seen talking about this movie and others, I don't really have a problem with it. Maybe because that's because I'm 21 and have a huge thing for SRK even though he's older than my father (and by God, him in uniform), or maybe that's because I believe he just still has it even at age 47. I don't care what you say, that man looks damn good for 47.
A romance of a not-too-unique sort here; SRK even calls himself Raj for part of it.
But... sexier!
Besides, the generational gap that's toyed with in this movie — a "38"-year-old Samar's one-sided (perhaps) love story with 21-year-old Akira — isn't really followed through on.
Though part of me knew that Meera (Katrina) would come out the victor in this battle, I couldn't help but root for Akira (Anushka). (Meera is the peepeewoman!) Perhaps it's because Anuskha Sharma is simply and inherently more likeable than Katrina Kaif — and a much better actress. Perhaps it's because I will continue to root (hopelessly and helplessly) for the tomboy girls who are themselves and not proper and prettified. Who are carefree and ride motorcycles and basically kick ass in a man's world.
But I know and knew in the film that it is a fruitless battle. Meera is the one that Samar has wooed and chosen, no matter what she's done to him, and of course is also the one that he slept with, so inevitably she will be the victor. Perhaps only if she had died would Akira be able to have Samar in a Yash Chopra world (because we know from Lamhe that Yashji had no quarrel with age and generation gaps).
I felt this way when he didn't pick you too, Akira.
In that way, the love story is quintessentially conservative.
First love is the lasting love.

One life, one love. And yes, it's probably up for debate as to whether Samar ever actually loved Akira (quite like Devdas and Chandramukhi). Part of me wants to say yes because they were the couple that I rooted for, but then there are some indications that he only ever entertained her whims. That, of course, goes back to the one life, one love theory.
Can we also talk about Yash Chopra's penchant for making lovers pay a penance before they are happy? This one was half the time of Veer-Zaara, but equally, shall we say, unnecessary. Ten years is an awful long time to spend apart just because you're angry (Samar) or because you think that you have some deal with God that means you have to stay away (despite the fact that you've seen the man to tell him of this deal...). It almost feels like a weak reason for separation, especially on Meera's part. It might have felt stronger if there was some scene with, say, her father reinforcing the idea that promises to God must be kept. (Or maybe I just wanted to see more of Anupam Kher because I will always and forever <3 him as a filmi father, and a couple of scenes are never enough.)
The religious entanglements of this film... not so great. (But... Christian!)
Part of me dislikes the religious implications of this movie in total. Because while they point out the folly of bargaining with God, expecting that He exact something from you in return for giving something you pray for, Samar also delivers a rather blasphemous speech at Meera that implies he and God are equal and that devotion is either to one or the other, something I don't believe is even remotely true.
And there are logical inconsistencies in the plot — why is Akira allowed near bomb sites to film? Why do authorities randomly let Samar defuse a bomb on a London train? Why does "state-level swimmer" Akira nearly drown at the beginning of the movie? Why the hell do people not watch when they cross the street?!? — but none of them bothered me too bad. Such is filmidom.
But bouncing back to the upside, the music of this movie is unerringly fantastic. A.R. Rahman's genius shines again, as does Gulzar's lyrical ingenuity. I would say the same thing I
said last year about the Rockstar soundtrack
, that it "transcends language," but, as expressive as A.R Rahman's compositions are on their own, I think saying that would do injustice to Gulzar's lyrics. Heer is above and beyond my favorite, but there isn't a single song in this film that I would give up.
The glorious song 'Heer.'
And, true to Yash Chopra form, the picturizations are as equally glorious as the music itself. He knew how to take the poetic words and make them visual. (The only one I'd pick at was parts of Saans, and part of that may have to do with my conservative tastes disliking the bed scene!) The Ishq Shava picturization also had pretty strikingly different and edgy choreography for a Bollywood flick.
Cynicism and life. More than just
a romance.
I think it's perhaps a good metaphor for the whole film's mix of the classic, the conservative, and the young edginess. Somehow the film manages to blend both well. It's the grand romance you can expect from Yash Chopra. It's the heartmelting "young" wooing loverboy you can expect from Shahrukh Khan. But it's also about a young, vibrant woman who tries to woo a cynical man who is angry about a love lost. It's about a dark soldier figure who refuses to fear death but who has something of a death wish. And it's a conservative Bollywood love story, in a way, but it's one that shows a few of the more intimate moments that are often not discussed. It's one that subtly hints that Samar could have been happy with Akira if he hadn't re-encountered Meera.
Perhaps that's why I loved it. It has one foot in the past and one in the future.
And like any good filmi-lover, I cried when the end credits rolled beside a montage of Yash Chopra directing his last film.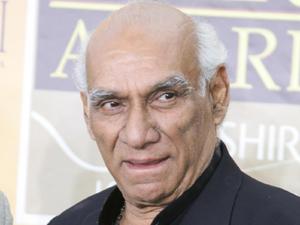 I cried because we will never have another Yash Chopra. We will never have another Yash Chopra Romance. Aditya Chopra (quite unlike poor Uday) is a significant filmi talent in his own right, and perhaps with time he will rise to truly fill his father's shoes. But will there ever be another master like Yashji who understands the heart and the all-conquering power of love? I fear there won't be.
I cried because I felt the end of an era. And one that I refuse to let go.