I sadly have been very remiss in updating the blog, even when I have had the time to go see new movies. I promised myself after this one that I would say at least something brief.
Synopsis:
Orphans Abbas Ali (
Abhishek Bachchan
) and his sister, Sania (
Asin
), have lost everything in Delhi, so they move to Ranakpur with their father's friend, Shastri. Shastri promises Abbas a job with Prithviraj (
Ajay Devgn
), the powerful man who's basically the benevolent ruler of the village. But they end up lying to "Prithviji" about Abbas's identity, instead saying his name is…Abhishek Bachchan. Oh, yes. Hijinks ensue to keep up the ruse to avoid Prithviji's wrath, including convincing him that Abhishek (who is really Abbas) has an identical (but half) brother named Abbas who is a gay dance instructor.
Sum total? I liked it. But then Bol Bachchan is exactly my cup of comedy tea that I don't expect everyone to enjoy, just like many
AkshayKumar
comedies are. If you'll pardon a mixture of talking about Bol Bachchan in particular and zany Bollywood comedies in general, I'll proceed.
What's to like about Bol Bachchan:
· Bromance: I'm increasingly convinced that Bollywood has mastered the art of a good bromance, and this one is rife with brotherly love and suggestive jokes about something more than brotherly between Abbas/Abhishek and Prithvi. (See below for more on why I love this.)
· Humor: The humor here just doesn't stop. There's physical comedy, dialogue comedy (Prithvi's English? HAHAHA), situational comedy. All mixed up together.
·
Action
: Good guys beating up a ridiculous amount of bad guys. That is
always
fun, right?
·
Abhishek Bachchan
: I know he gets a lot of flak, but I love Junior B because he's
not
a miniature Amitabh Bachchan. He's a gangly goofy giant of a man who's unafraid to act like a complete fool if it'll generate laughs.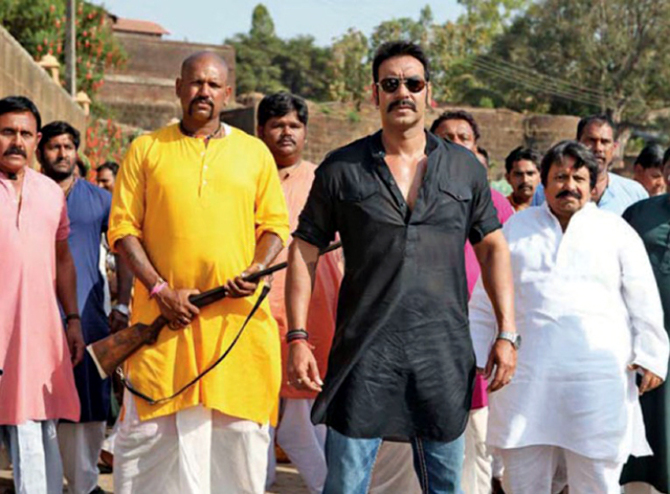 I'm thinking this is a good look (and role-type) for Ajay.
·
Ajay Devgn
: I'm hardly Ajay's biggest fan, especially in a typical wooing romantic role. BUT give him a power-role and I think he's made for it. And his muscles (and tattoo!) certainly don't hurt either. ;) If Ajay wants to run around being the badass good guy, I'm okay with that.
Hellllllloooo, senor.
In that way, Bol Bachchan is kind of like Singham 2.0 … times two heroes with Abhishek also doing double (or triple, considering the dual role) duty as comedic relief.
One reason I think that I love Bollywood comedies — while American comedies rarely make me laugh and I think the "romantic comedy" in Hollywood has very, very little humor — is that they're unafraid to embrace all types of humor. Colorful is another way of putting it. No gag is too easy or too low or too ridiculous, and so they're able to have a mass appeal.
I mean heck, we get to watch Abhishek (playing Abbas playing Abhishek playing Abbas) practically lap dance on Ajay. Who looked wildly uncomfortable. I don't see how that could not make you laugh. I laughed so hard I couldn't breathe.
Bromance time. (I think in this photo, John Abraham looks
jealous of Abhi's new bromance.)
I think what makes the bromance such a great comedic tool — really a great tool in all fiction — is that it effectively stands for a level of pure (nonsexual) love and understanding where two men are so close they're unafraid to act ridiculous and yet they have trouble admitting feelings to one another. Because they're men and that's just how they are.
To fully understand my sense of humor, you perhaps have to understand that I come from a family where my father is something of a hybrid between Jim Carrey and George Lopez and we speak our own improvised language. "Embracing ridiculousness" is probably an apt way to describe what I love in a comedy. (Heck, one of my favorite Hollywood comedies is the 1944 screwball
Arsenic and Old Lace
in which two sweet old ladies kill people and bury them in the basement.) I don't want Hollywood's films that like to revel in their own cleverness. I want absurd hijinks that make me laugh. That's exactly what many Bollywood comedies — Bol Bachchan included — provide.